06.12.2019
Ivanyan and Partners among leaders in the Russian legal market
+ add to binder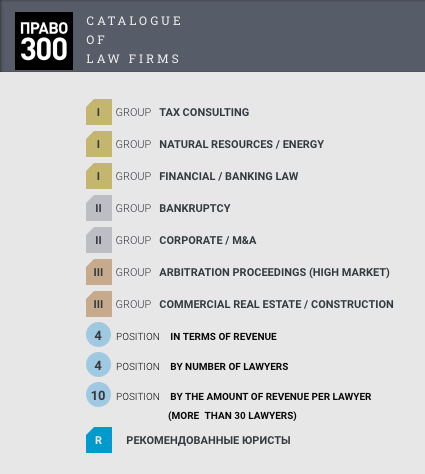 On 5 December, the Russian legal rating agency Pravo.ru-300 announced the results of its annual market research. Ivanyan and Partners was recognised in all 7 categories it made a submission in (out of 29 in total) and took a leading position in three areas of law: Tax consulting, Natural resources/Energy, and Financial/Banking law.
The firm has been recognised in the following areas:
Band 1
Tax law (consulting)
Natural resources / Energy
Financial / Banking law
Band 2
Insolvency
Corporate / M&A
Band 3
Commercial disputes (high market)
Commercial real estate / Construction
The firm is also included on the list of TOP-50 law firms of Russia 2019 in terms of financial and statistical indicators:
#4 by revenue
#4 by number of lawyers
#10 in revenue per lawyer.
Pravo.ru-300 has been conducting its research since 2010. Today, it is the largest national observer of the Russian legal market. The methodology is based on the evaluation of the project experience of law firms, as well as clients' feedback on the level and the value for money of law firms' legal services.
This year, the Pravo.ru-300 team evaluated almost 12 thousand submitted projects totalling 144 trillion rubles and interviewed 11 thousand clients of law firms. The final rating included 322 companies, both Russian (74.6%) and international (25.4%).